Chicago Pedestrian Accident Lawyer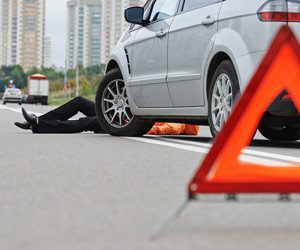 Chicago is a bustling metropolis where vehicles, pedestrians, and bicyclists converge each day. For a pedestrian, staying safe can be difficult. Pedestrians must exercise extreme caution when crossing city streets, on public sidewalks, or any location in close proximity to moving motor vehicles. Drivers must also use extreme care to avoid pedestrians. Just a few seconds of driver distraction could lead to serious injuries or loss of life for an innocent pedestrian.
Pedestrian Accident Statistics in Illinois
According to an Illinois Department of Transportation (IDOT) report, 4,895 pedestrian accidents happened in 2013. Out of these accidents, 4,562 involved serious injuries and 124 resulted in fatalities. In urban areas, the majority of fatal pedestrian accidents happen on city streets and roads, the most dangerous places for pedestrians.
Light conditions also play a role in pedestrian accidents. The highest numbers of fatal pedestrian accidents are in the evening hours. The highest numbers of serious injuries however are during daylight hours and include cases in which a pedestrian was left incapacitated or paralyzed.
As most pedestrians have no protection in an accident with a motor vehicle, injuries are often far more severe than in other types of crashes. Broken bones, neck injuries, back and spinal cord injuries, severe head trauma, nerve damage, loss of mobility, amputation, and death commonly happen in pedestrian accidents in Chicago.
Legal Representation Following a Pedestrian Accident
Our Chicago personal injury attorneys at Sexner Injury Lawyers LLC are advocates for accident victims and their families. We understand the personal and emotional devastation associated with pedestrian accidents, and we assist our clients in seeking justice. If you or a loved one has been injured in a pedestrian accident in the Chicago area, our firm is committed to doing everything possible to help you pursue the compensation you deserve. We have helped our clients collect millions of dollars and we are ready to help you as well.
Contact a Chicago pedestrian accident attorney at Sexner Injury Lawyers LLC at (312) 243-9922 to discuss your case.
Additional Information