Chicago Nursing Home Physical Abuse Attorneys
Has Your Loved One Suffered Physical Abuse in a Nursing Home?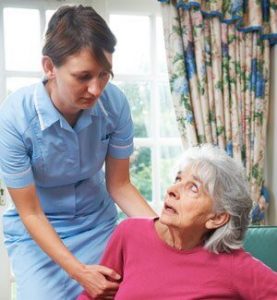 Abuse is defined as the cruel or violent treatment of another person. In the context of nursing homes, such abuse takes many forms. Although in an ideal world there would be no abuse at all in patient care facilities, and in some places there is in fact no discernible abuse, in others abuse is rampant. Statistics demonstrate that senior citizens that are abused have a much higher rate of early death than others. According to some reports, one out of every three nursing home residents report being the subject of abuse at one time or the other. Abuse takes many forms, but physical abuse is considered to be the most common.
Nursing Home Physical Abuse Warning Signs
There are many types of abuse that are difficult to spot or identify. For instance, psychological abuse or financial abuse cannot easily be seen by merely looking at the nursing home resident. On the hand, physical abuse of a patient often (but not always) leaves tell-tale signs that an abusive event has occurred. Some of these signs may include:
Visual manifestations of abuse such as bruises, cuts, scrapes
Appearance of injury to wrists, arms, or ankles that suggest physical restraints were used
Reoccurring similar injuries
Injuries that cannot be explained
Nursing home staff that refuses to leave the patient alone with family
Dehydration
Malnutrition
Unusual loss of weight
Family members should remain on guard during each visit for such signs, regardless of whether the facility is highly-rated and without a history of complaints. Although some medical staff employees remain at their positions for long time periods, many others come and go. There is no telling when a new "bad apple" employee may join an otherwise professional team.
Perpetrators of Physical Abuse in Nursing Homes
But who are these people that abuse nursing home residents? Generally, they come from three different groups which include:
Existing Nursing Residents: As you would probably expect, residents of nursing homes include a cross-section of people that you otherwise would find in the general population. Consequently, in any particular nursing home, in addition to kind and nice people, you would also expect to find unkind, violent, mean-spirited, and psychologically imbalanced individuals as well. So it should come as no surprise that victims of abuse sometimes get abused by other residents when family and medical staff is not present.
Family Members: Believe it or not, sometimes it is the patient's own family members that are the physical abusers. When medical staff is not looking, such family may physically or psychologically abuse their own. Especially if there has been a history of abuse, other members of the family should be on the lookout for warning signs.
Caregivers and Medical Staff: Although family members and other patients are in fact responsible for a certain amount of physical abuse in nursing homes, by far the most prevalent source of abuse is at the hands of the nursing home staff itself. Of course, there is no need to cast a wide net on such staff, because for each abusive caregiver there are undoubtedly two others that are caring and well-intentioned.
Some of this physical abuse grows out of frustration due to under-staffing, lack of sufficient resources, and a failure to properly train the medical staff. Other times, the caregiver is in fact simply a bad and malicious person. The abuse is unintentional in some situations as well. Yet, regardless of the source, there are no circumstances under which physical abuse can be tolerated.
Types of Nursing Home Physical Abuse
Just as there are many types of abusers, so are there many types of physical abuse. But generally, physical abuse falls within one of three distinct categories which include:
Physical Neglect
This type of abuse may be intentional or unintentional. Sometimes, the caregiver is purposely failing to provide the care necessary for the patient to thrive, while other times, the failure to provide proper services is due to a lack of proper training or a lack of necessary resources. When neglect occurs, basic necessities that are required for the maintenance of dignity and survival are withheld or not provided. These may include:
Provision of sufficient food and water
Provision of proper medication
Provision of necessary clothing
Provision of a sanitary, safe and clean environment
Physical Restraints
There is a place for physical restraints in nursing homes, but only under certain very limited medical conditions. Even during such situations, restraints are to be used for short and specific periods of time. To do otherwise is in violation of Federal Nursing Home regulations and laws. This is because the extended use of restraints often leads to injury as nursing homes patients understandably struggle to free themselves of such confinement. Under no circumstances should physical restraints ever be used for the convenience of the medical staff or for punishment purposes. When this occurs, the use of restraints is not only improper and medical malpractice, but may be criminal in nature as well.
Active Abuse
This is the type of abuse that people most often think of when they consider nursing home abuse. It may involve a patient who is hit, punched, slapped, pinched, kicked, sexually abused or otherwise physically violated. This type of physical abuse is intentional and can often be discerned from the physical appearance of the nursing home resident. It is also often the most serious and may lead to very serious permanent injury or wrongful death.
Contact an Experienced Nursing Home Physical Abuse Attorneys in Chicago
For more than twenty-five years, the experienced, caring and knowledgeable attorneys associated with Sexner Injury Lawyers LLC have been helping nursing home residents and their families hold others accountable for injuries, deaths and abuses, whether they occurred intentionally or unintentionally. Call our Chicago nursing home abuse lawyers 24 hours a day at (312) 243-9922 for free, no-obligation information.