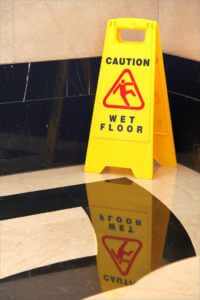 Slip and falls are the most common type of accident and make up the majority of general incidents both in the home and the workplace. While minor slip and falls might not be a major issue, they can be very dangerous. In the US, nearly 32,000 deaths in 2014 were due to slip and falls, and the danger of falls and the likelihood of a fall causing a serious injury or fatality increases with age. Negligence in a slip and fall case to establish liability can be difficult to prove without an experienced lawyer, but ultimately it is best to simply to try to avoid and prevent them in the first place.
Owners of homes and Chicago businesses can do a few things to help prevent injuries, which may not only keep others safe but reduce the chances of being held liable for an injury. Spills should be cleaned up immediately, and employers should train employees to clean spills and notify managers whenever a dangerous situation occurs. Everyone at a home or business should keep an eye out for tripping hazards, including debris and personal belongings, especially around stairs and common walkways. Small throw rugs can create dangerous fall and slip hazards, but non-skid mats beneath them can prevent them from moving and keep an area safe.
Staircases should have hand rails on both sides, which not only provides stability but can also give someone something to hold onto and stop a fall. Proper lighting is important in areas that see night-time traffic, or in basements and other areas that might not get enough natural light. Stairs should also be inspected to ensure they are deep enough, not too tall, and that they are consistent in terms of height and designed according to Illinois building and construction codes.
Anyone using a ladder should be sure to do so properly, making sure it is on stable ground and climbed upon appropriately. Employees who use ladders should be trained on how to use them responsibly and everyone should be told to notify a manager or store owner any time they see ladders used in unsafe ways. Outdoor areas with high foot traffic should be watched closely for adverse weather effects. During a Chicago winter, it is a good idea to shovel snow and salt aggressively to prevent the accumulation of ice.
The easiest way to avoid an injury or a fatality due to a slip and fall is to prevent the accident from ever occurring. If you have acted responsibly, but someone else has behaved in a way that is reckless or unreasonable and caused the injury or death of a loved one, let Sexner Injury Lawyers LLC help. Call us today at (312) 243-9922 to discuss your case and talk about your rights.