There may come a time when you find yourself in the middle of a legal battle requiring additional "protected" information that might support your case. In this instance, you may be able to get that support through the Freedom of Information Act.
The Freedom of Information Act (FOIA) states, in part, that a person can request access to federal agency records under specific guidelines and exclusions. You, in fact, may have a right to certain records if you believe its contents are necessary for the defense or prosecution of your particular legal case.
The Process of Making a Request
There is no official required form to fill out when making this sort of request. The request must be done in writing, however, and addressed to the particular agency from which you are seeking information. You can use the FOIA website to locate and contact these agencies for further information about their processes.  You can also work with a qualified attorney who can help you and who has experience in making these types of requests. This may benefit you in avoiding unwanted delays as FOIA requests can take time if they are complex in nature.
Freedom of Information Act vs. Privacy Act
The Freedom of Information and Privacy Acts have different laws and procedures but tend to overlap in various situations. To utilize these laws, either together or separately, you should cite both when seeking information about yourself.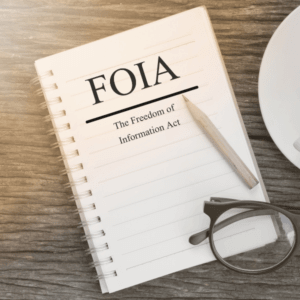 However, if you're seeking information that is about someone else, you should generally only reference the Freedom of Information Act.  
Best Results for FOIA Requests
There are thousands of resources online to help you with information about how to write a letter using the Freedom of Information Act. A quick Google search will present an overwhelming amount of information on this topic. There are two other ways to do this effectively:
Contact the FOIA Requester Service Center
Consult with an attorney who has experience in seeking this sort of information.
Federal agencies are set up to accept and process these types of requests and should make all efforts (given the scope of the request) to provide the information the individual is seeking. They should do this in a way that allows for the maximum amount of information that can be disclosed to a private citizen.
A Checklist for FOIA Requests
Check to make sure that the information isn't already available in public records. Your search can include online information or using local and state resources.
Make requests as specific as possible. Use dates and titles when applicable along with the names and organizations that surround your request.
Include your name, phone, and email address to expedite communication about your particular request.
Submit your request via mail, email or fax depending on the agency's preference. This correspondence should also be labeled "Freedom of Information Act Request."
For further assistance and specifics on submitting an FOIA request, you can use the online citizen's guide.
If you believe that you can benefit from legal support in making your Freedom of Information Act Request, please don't hesitate to contact a law firm that handles these matters. The team of Sexner Injury Lawyers LLC pays personal attention to every client and will be happy to point you in the right direction. If you need experienced legal representation, call our office today at (312) 243-9922.