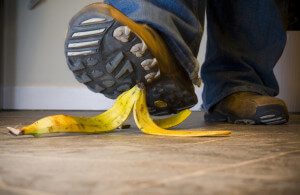 Slip, trip, and fall accidents are common and can happen anywhere. Knowing your rights when injured in a slip, trip, or fall incident can help you find experienced professional help in recovering damages.
Documenting Evidence
The first step when attempting to recover damages is to seek prompt medical care. Obtain records from your health care provider as evidence of your injuries and recovery costs. Document the location of the incident, how the accident occurred, and the names of those that may be responsible. Secondly, gather information, if it applies, about wages you may have lost due to your injuries. You will need this to determine how much in damages the defendant may owe. Reports from your workplace about your diminished capacity to work are critical to proving the value of your claims. Taking photographs of the hazard site is also important when documenting the existence of the dangers that caused your injuries.
Indoor Hazards and Liability
A property owner or a store tenant can be liable for slip and fall injuries. Some of the conditions where an owner or occupier may be responsible include failure to provide warning signs or failing to close off an area where a floor is being cleaned. Cleaning a floor in a negligent manner such as mopping at peak store hours, using too much cleaning solution, and leaving a floor wet are all potential liabilities for a property owner. Failure to clean up spilled food or liquid or failure to post warning signs when a spill occurs can also create liabilities. Fall conditions that exist due to a failure to keep carpets and floor surfaces maintained with loose tiles or torn carpet can create liabilities. Not maintaining stairs with broken handrails or worn steps are liability hazards that property owners should also consider and take care to remedy.
Outdoor Hazard and Liability
While store property owners or their tenants are responsible for indoor spills and fall accidents, liability for outdoor spills and falls usually are the responsibility of those who are charged with maintaining areas such as parking lots, sidewalks, lighting in parking lots or curbs. A mall property owner or management company, for example, that allows cracked sidewalks, potholes, or inadequate lighting at night may be liable for injuries occurring on the property. However, if the hazard is clearly marked, such as a pothole or parking block, the owner or management company would not likely be liable. As with indoor hazards, an owner or company is probably not liable if she or he is not aware of the danger, or if the owner has tried to mark or fix the hazard.
Contact a Dedicated Chicago Slip, Trip, and Fall Accident Attorney
The professional lawyers at Sexner Injury Lawyers LLC can help you determine if your injury is the result of negligence and help you recover monetary damages. Please contact us at (312) 243-9922.